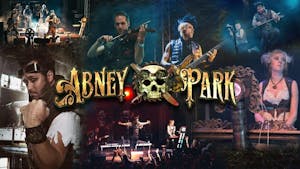 Abney Park brings their one-of-a-kind show to the Crest Theatre
Abney Park has been the soundtrack to your dreams, for more then 20 years. They mix elements of Gypsy Jazz, Industrial Dance, Electroswing, neo-vaudevillian, bellydancing, custom steampunk instruments and costumes into a break neck, musical masterpiece of a concert!
Joining Abney Park at the Crest theater is Seattle's premier Electroswing band Good Co. A fun, infectious collection of tunes shot through with a perkiness that will bring a smile to your face and lifts your heart. This is life affirming dance music.
Venue Information:
Crest Theatre
1013 K St
Sacramento, CA, 95814